Digital transformation is growing at a rapid pace across all sectors globally and will continue to play a central role in transforming the way businesses operate. Right now, more than ever, businesses are constantly looking at ways to speed up their digital transformation journey by investing in and collaborating in digital infrastructure.
In the pursuit of serving customers better and improving operational efficiencies, banks and financial institutions have started implementing digital collaboration into their technology roadmap, thereby improving the overall strategic position of an organization.
Significant improvements and value creation for both businesses and their customers
As customers become increasingly comfortable with technology, their expectation for digitalized services increases. This involves a range of capabilities including use of advanced analytics and process automation. While customer-facing products and touchpoints have become more digitized (e.g: mobile payments), business processes have still not reached the precipice. This is why it becomes crucial that businesses embed digital collaboration into their operational workflows thereby allowing for significant improvements and value creation for both businesses and their customers.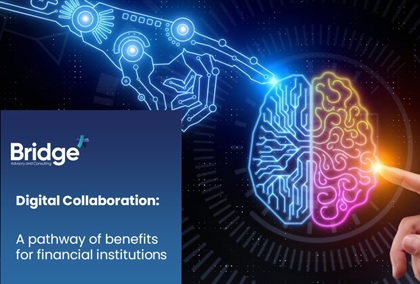 Avenues for digital collaboration
In order to capture the value and opportunity that is offered through digital collaboration, financial institutions need to carry out strategic level decisions and look at which functions add more value if digitized. 1) Knowing the requirement 2) Identifying existing/ available processes for collaboration 3) Know the required technology 4) Prepared for user adoption through training
Here are a few banking functions which can be streamlined through digital collaboration:
Customer onboarding:
With the use of AI chatbot technology, financial institutions can improve customer experience through 'Ekyc' (Electronic know your customer)
Digital Micro Lending:
Automated loan offerings and contactless lending services act as enablers for timely digital payments ensuring the entire loan lifecycle, from application to disbursement into the customer's account, happens in a seamless manner
SME/ Corporate Banking and lending
Collaborate on necessary documents all in a digital setting allowing for a streamlined hassle-free loan approval process
Mortgage origination
from consideration to application, processing and closing can be significantly streamlined through automation thereby reducing shortcoming, lowering costs, and improving customer experience
Businesses can reap the benefits of digital collaboration such as real time processing/updates and reporting, increased transparency due to availability of all information on one platform, significant long term cost savings, less time consuming and improves overall customer experience.
Is digital collaboration the best way forward?
If you are looking to improve business processes and workflows, then digital collaboration is the answer for your business. It will undoubtedly transform business processes to drive greater operating efficiencies and profitability. As Sri Lanka continues to expand its digital footprint and moves forward with its long-term digitization efforts, it has become clear that the digitization of financial institutions is of utmost important in securing economic stability and driving incremental growth – through which the benefits reaped will lead to economic and social prosperity for all.